Ugly stores don't inspire confidence, rather they repel customers. Don't let your store become an aesthetically challenged monstrosity or disorganized mess. Here are some free themes to keep your store looking fresh.
1. Clean and Handsome-Minimal
Minimal is exactly what the name implies: minimalism. Less is more with this attractive setup. It has multiple layouts, fonts, and color themes for you to explore. This is a versatile theme that can be adapted to most stores.
2. Bold and Striking-Venture
Venture's color pallet and aesthetic will fit well with an outdoorsy vibe. Its customizable nature and features are ideal for stores with large inventories. Take your store on an adventure!
3. Edge to Edge Vibrance-Brooklyn
What sets Brooklyn apart is the edge to edge to display. The background draws the customer in with it's beautiful and high-end feel. Its layout and options make it great for apparel stores or lifestyle accessories like sunglasses.
Narrative is another killer theme that exudes luxury. Featuring edge to edge slideshows and video, Narrative lets you take your customers through a story. This theme excels with stores that focus fewer products on the pricier side.
5. Set Up Quick-Express
Express, like the name suggests, is a winner for getting a store up and running on the double. It can quickly help you dress up a store that doesn't have a large inventory or has a shortage of product photos. Add a professional touch in an instant
6. Technical Beauty-Supply
Supply can easily be adapted to most stores but looks amazing showcasing tech products. The theme provides great infrastructure for large or small stores and color pallets that give off Apple Store vibes.
7. Eclectic Excellence-Debut
This is the jack of all trades theme. You can apply this to virtually any store and end up with a sharp looking store. With strong customizability and a plethora of features such as slideshows, videos, banners, and more this feature will work with beginners all the way to veterans.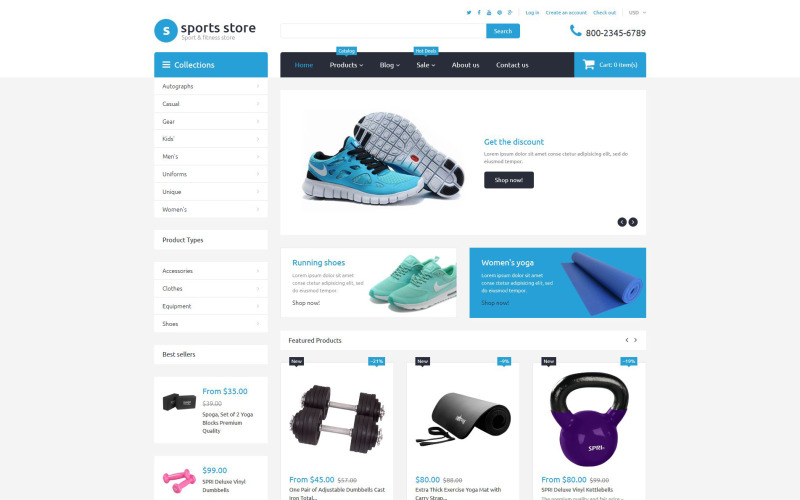 If the name doesn't give it away already, this store is focused on athletic apparel. This is a nonsense store with a color selection fitting for the athletic sector with good support for larger inventories.
9. Clean Product Display-Simple
As the name suggests, Simple is light and easy on the eyes. This is a no-nonsense layout that lets customers focus on the products without all the visual fluff. This is going to be an appropriate theme for certain styles of clothing stores or stores with large inventories.
Boundless is for the stores that have their photography game locked down. Allowing homepages to display stunning photographs, your store will give off a high-end first impression instantly. For mobile focused sellers, this is going to be a top choice.